New Hamburg's ODG expands into Quebec
New Hamburg Independent | Dec 14, 2016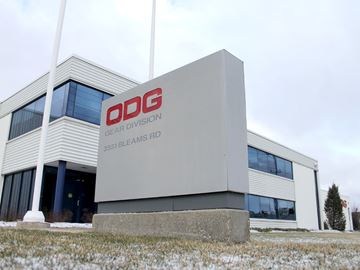 Ontario Drive and Gear was founded in New Hamburg in 1962.
Ontario Drive and Gear is growing again, this time by acquiring two Quebec companies.
The successful New Hamburg business, which produces gears and transmissions, plus the amphibious ARGO vehicles and space exploration rovers, announced Dec. 13 that it had bought Groupe Trudo Inc. of Richmond, QC and Engrenax Hydraulix Inc. of Granby, QC
Both those companies have long-standing customers in the agricultural and construction markets, and will now operate as part of ODG. Production will continue at the Quebec facilities, and these twin acquisitions are helping Ontario Drive and Gear branch out with new capabilities to create new gears and other parts, said the Wilmot company in a news release.
These will be ODG's first facilities outside of their three New Hamburg locations.
"The acquisition of Groupe Trudo and Engrenax adds key manufacturing capabilities and capacity," said Joel Wright, president of ODG's Gear Division. "Taken together we now have over a century's worth of gear manufacturing experience and are confident that this expansion will create significant synergies."
http://www.newhamburgindependent.ca/news-story/7019936-new-hamburg-s-odg-expands-into-quebec/